Carol Wallace
Daisy's Ghost Writer
American artist Carol Wallace is the author and illustrator of Daisy's Reality Show Adventure...her first book. She has had over thirty years experience as a gallery and commission artist, illustrator and designer whose work is licensed for stationery and decorative giftware. In addition, she is the founder and director of two national art/preservation ventures--Preserve America and Gatekeepers of History.
This novella, appropriate for all ages, is a spin-off of her more serious preservation projects. When Carol traveled across the country the past twelve years to build up Preserve America, which is dedicated to the tradition, ideals and respect for the history of America, she listened to many people who were concerned that these time-honored values were being eroded. Because of the overabundance of Reality Show programming, social media, an obsession with the Hollywood lifestyle and the desire by a segment of our society to attain instant fame and fortune, this book seemed the perfect venue for Carol to make a statement about popular culture. But she wanted to write and illustrate it in an engaging and fun way. 
In the process, Carol not only had a lot of laughs when doing her research and depicting real-life TV in dog-speak, but she also gained a greater understanding about the benefits and drawbacks of this global societal and entertainment trend. She hopes her book will encourage her readers to pause and think about this phenomenon--what it means, how it has changed our thinking about the rewards of working long and hard to achieve a goal and the perception people from other countries have of us because of it. This book tackles a lot of cultural issues and imparts some important life lessons. It is appropriate for all ages.
It seems like Carol was destined to create this story, as she and her husband, Rick, live in a Connecticut town called Barkhamsted. The neighboring community has been hosting, since 1938, their annual Pet Parade, where four-legged participants "strut their stuff" down Main Street.
Greg O'Brien
Daisy's Voice Actor Friend
Greg was thrilled to create the web welcome for Daisy and to be her on-call staff announcer! Since 1977, he's been fine-tuning his craft as a voice actor, providing the voice(s) on literally thousands of projects, ranging from radio/television commercials, imaging & jingles, to film/video trailers & narrations, websites & telephone systems heard around the world. Greg has been a contracted announcer for ESPN since 1996, voicing a wide variety of sports promos & imaging aired in over 200 countries on the ESPN Family of Networks.
As an inspirational speaker, writer, vocalist, host & master of ceremonies, he's taken part in countless events involving various local organizations as well as the March of Dimes, American Red Cross, American Cancer Society, Muscular Dystrophy Association, Disabled American Veterans, Diveheart and many others.
His repertoire also includes being a seasoned radio announcer, audio production specialist, copywriter, poet, songwriter and vocalist.  Greg commented that he's truly in his element while performing and particularly enjoys singing The National Anthem along with other patriotic songs at civic, military, private and public gatherings ranging from Olympic events, political conventions, weddings and funerals. Over the years, he's even had the pleasure of performing as lead singer with a few music groups.
After reading her tale, Greg said that without a doubt, Daisy's own perseverance to utilize her vocal abilities and other talents to do good deeds, even in the face of traumatizing obstacles, really touched his heart and instantly turned him into a "Daisy-liker!" He said, "Even after all my experiences, it became clear to me that Daisy could teach THIS old dog some new tricks."
Greg resides in the northwest hills of Connecticut and can be reached by calling 860-205-5919 or at [email protected] For extensive samples of Greg's voice & vocal work, please visit: www.Voice123.com/GregOBrien and www.VoiceOverUniverse.com/profile/GregOBrien
Richard Hubbard
Daisy's Webmaster
Web designer/graphic artist Richard Hubbard created Daisy's Web site in addition to
the "Ruly" font
featured in the print version of
Daisy's Reality Show Adventure.
Richard received his BFA from
Pratt Institute
in Brooklyn, New York and has done graphic design work for various newspapers before accepting his current position as webmaster for a Connecticut based community college a few years ago. In addition, he does freelance web design work and creates custom fonts. Richard is also the co-founder of
Healthy Living CT,
a website devoted to helping people achieve their weight loss goals, along with other areas of healthy living.
The Daisy website was a fun project to work on, as Richard loves dogs (OK, he loves cats too, but just don't tell Daisy)! Physical fitness is important to Richard and he walks his dog daily. Daisy is envious of all the exercise Richard's dog is getting, sometimes it's thousands of steps each day! Maybe a pet-o-meter is a good gift for Daisy on her next birthday!
For further information, contact Richard at [email protected].
Cliff Carle
Daisy's Editor
Daisy and Carol Wallace were doing some digging around to find the perfect editor when they decided to have Daisy's Reality Show Adventure published. They found him in Los Angeles, California, where much of the story takes place. The deal closer was when Daisy learned that he had a Rat Terrier when he was a kid..."I loved little Trixie," Cliff Carle disclosed.
Cliff Carle is a freelance editor and publishing consultant with 20 years experience as the former Editorial Director for a L.A. based publisher. He has edited over 400 fiction and nonfiction books, placed with over 20 publishing companies including McGraw Hill, Hay House, Andrews & McMeel, and Rodale. Cliff helps both first-time and veteran authors develop and fine-tune their books, not only for literary merit, but also for their marketing aspects, including title, subtitle, style, organization, and, ultimately, the "pitch" to publishers. In
addition, Cliff has expertise in marketing and cover design. Among Cliff's clients are a CNN Anchorperson, a national television host on ShopNBC, a nationally syndicated columnist, a journalist for the Boston Globe, a Grammy award winning Rap Artist; a documentary film director; plus countless public speakers, CEOs, PhDs, medical doctors, psychologists, and four best selling authors.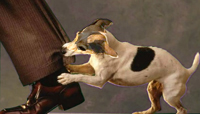 ("It was fun working with Daisy and Carol on the book, but Daisy, on several occasions, uncharacteristically displayed SDS (Small Dog Syndrome) when I requested rewrites on some copy--I guess she was upset I wasn't following her vision.")
www.cliffcarle.com
www.glee-mail.com
Elaine Lanmon
Daisy's Book Designer
Elaine Lanmon of Just Ink Digital Design does book design for print and manuscript conversion for eBook formats. She resides in a suburb of Fort Worth, Texas.